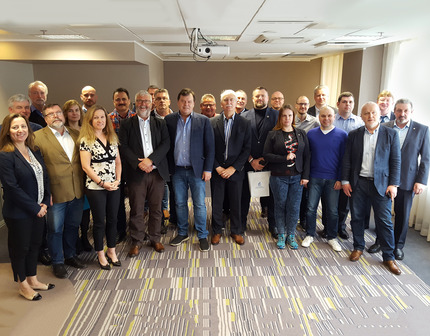 15.05.2019
SCOCEEN: Seafarers' retirement benefits are the hot topic
Recently, the 33rd working meeting of trade unions and shipowners on better working conditions for seafarers was held in Tallinn (Estonia) - the meeting of the Seafarers Committee of Central, Eastern Europe and Norway (SCOCEEN).
It was traditionally attended by representatives of the Norwegian Shipowners' Association and a number of trade unions from countries which supply crews for ships of Norwegian owners, that are: Russia, Romania, Croatia, Latvia, Lithuania, Estonia, Ukraine and Norway. The purpose of the event was to find common grounds for trade unions and employers in the struggle for labor rights of more than two thousand seafarers serving on board of Norwegian vessels.
The delegation of the Seafarers' Union of Russia (SUR) was represented by SUR Chairman Yury Sukhorukov, SUR Vice Chairman Vadim Ivanov, Chairman of the SUR Northern Territorial Organization Alexander Krasnoshtan, Labor Inspectors of the SUR Kaliningrad Territorial Organization Lyudmila Izmalkova and Peter Dzendzelyuk.
Colleagues from different countries discussed issues of better working conditions for international crews, cooperation between trade union organizations and the Norwegian Shipowners' Association, collective agreements for 2019 and further, as well as the opportunities for wages increase.
Read more ...