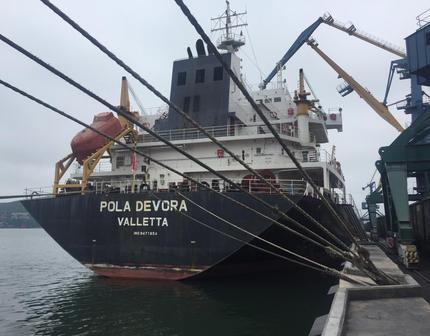 07.06.2019
M/v Pola Devora: the crew is protected by ITF collective agreement
M/v Pola Devora (flag of Malta, IMO 9471654), protected by the ITF collective bargaining agreement, has called at the Port of Nakhodka. The representatives of the Far Eastern Regional Organization of the Seafarers' Union of Russia (SUR FERO) have decided to visit the ship and to witness for themselves that it's okay on the ship.
The vessel with the Australian alumina on board was under cargo unloading. Its crew gave them a kind reception especially because the SUR is a signer of the ITF collective agreement. Nikolai Sukhanov, the leader of the SUR FERO, said that the ship operator is the Belgian INOK N.V. The crewing agency, which employed 20 Karelians, is based in St. Petersburg.
The social guarantees for the crew are on the highest level: an able seaman's wage is $1,590 and a captain's wage is $9200. Besides the ITF agreement, there are the Insurance Certificates which the Maritime Labour Convention requires. According to the collective agreement, in the event of death a crew member is insured for $104,866.
Talking to the seafarers it became clear that some of them haven't the SUR membership cards. The SUR FERO offered to resolve this misunderstanding and invited them in the office. The inspectors also highlighted that during the ship call in Nakhodka they always can come to the union office as for business as for have a chat.
Read more ...