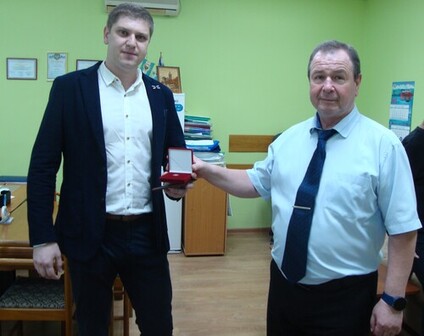 01.12.2023
Captain Kirill Karapetyants was awarded the "The SUR Badge of Honor"
The honorary badge of the Seafarers' Union of Russia has been handed out to the captain of the crude oil tanker "Olympiysky Prospect," Kirill Karapetyants. The SUR launched this in-house award several years ago to recognize its members for contribution to the development of trade union activities.
Kirill Karapetyants is one of the young captains of the SCF Group who managed to make a brilliant career in the merchant marine. The trade union committee, which applied to the SUR Council to award its candidate, described the captain as a hardworking professional, demanding of himself and of his subordinates, who managed to win the respect of the crew. Kirill Karapetyants himself recalls with gratitude his mentors, captains Sergey Yuryevich Nikolsko-Rzhevsky and Maxim Viktorovich Mikhin, under whose leadership he developed as a highly qualified specialist.
Vice-Chairman of the SUR Local Trade Union Organization of the NOVOSHIP UK Shipping Company, Evgeniy Samula, thanked Captain Karapetyants for his dedication to the profession and wished him quiet and safe voyages.
Read more ...